THE Round Fifteen Men's SBL Player of the Week has been awarded to Kyle Sovine of the Northern Star Resources Goldfields Giants.
Following a thrilling Round 15 double-overtime encounter between the Goldfields Giants and Stirling Senators, Kyle Sovine's dominant performance has seen him suitably named as Player of the Week.
The Giant's emerged victorious in one of the closest games this season, where Sovine and fellow import Jeylyn Sharpe willed the Giants to a 112-110 2OT win. In 45 minutes, Sovine posted a line of 34 points, 23 rebounds, 5 assists and 6 steals, conceding no turnovers in the game. Crucially, Sovine went 11-12 from the free throw line including the Giants' last 2 points in OT1, and the final 4 points in OT2 to put the game out of reach.
The effort was easily Sovine's highlight of this year, smashing his rebound and block season highs, while equalling his assist high. He now averages 23.37ppg and 8.58rpg for the Giants, who have shown a considerable turnaround in form across their last four matches.
The win lifts the Giants off the bottom of the MSBL ladder, ahead of a double-header weekend against the two teams either side of them, South West (12th) and Mandurah (14th).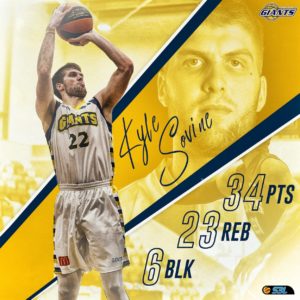 Image by Sports Imagery Australia