THE Round Fifteen Women's SBL Player of the Week has been awarded to Kisha Lee of the Round 1 Fitness Cockburn Cougars.
In a game where the Cockburn Cougars (10th) troubled the Kalamunda Eastern Suns (4th) for three of the four quarters, a standout performance from Kisha Lee sees her second POTW in three weeks.
Lee was phenomenal in the Cougars loss, dominantly playing her way to 42 points, 15 rebounds (7 offensive) and 3 assists, sitting for just 85 seconds of the entire game. In a game where Coach Thompson played effectively with 6 players, Lee was sublime in utilising the ball efficiently, registering no turnovers and shooting at 55% from the field.
Though the effort was not enough for the Cougars to steal a win off the highly-touted Eastern Suns, Lee will surely have the League on notice following this performance. She now sits second overall in 2018 WSBL scoring, hitting 20 points or more in 12 of her 16 games.
The Cougars have a double-header weekend in Round 16 (Heritage Round), where they take on the Stirling Senators away on Friday night, prior to hosting the Perth Redbacks Saturday.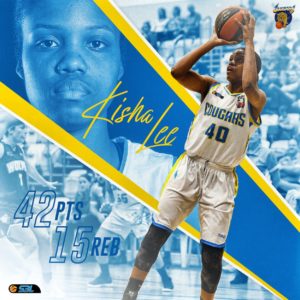 Image by Sports Imagery Australia