Recently, Natala Miller had the opportunity to sit down with Stirling Senators players Cody Ellis, Austin Bruton & Corban Wroe:
CODY ELLIS
If you weren't a professional basketball player what career would you like to be doing?
AFL – Growing up I played AFL for juniors and I had to choose and basketball won. 
How do you relax before a game?
My day consists of hanging out at home, playing Play Station, take a nap, just lay low and relax.
Is your pre-game preparation any different from an NBL game to an SBL game?
No not really nap before games.  I try to take every game with the same approach.
When you're not preparing for a game what are your favourite things to do?
Just chill out and relax
Being that you play over in Wollongong what is it you miss about Perth?
Family, being around my family more than anything and being around Stirling and the club.
What is your favourite part about being a Dad?
Just watching Chase grow day by day and how much he picks up things and watching his confidence grow and watching him with my fellow players.  He's just started kindergarten this year and just watching him learn new things it's amazing.
After all of the travelling you have done which place would be a favourite of yours?
One of my favourite places would be Paris, super classy place and then seeing all the sights there it is one of the best looking places.
What is your favourite SBL moment?
A couple of years ago hitting the game winning shot and to make it even more special it was my birthday.
What is your favourite NBL moment?
Making the Grand finals in the last NBL season it was an awesome moment. 
Which stadium is the loudest you've played in?
Perth Arena and when I was in college in Dayton, USA that was really loud too.
You went to College in the US, what was the highlights of that for you?
I was playing at the St Louis University.  Winning my conference championship and then I got 6th man of the year for that conference.
Is there any player in the SBL that pushes you to work harder?
I think everyone because being an "Ellis" and an NBL player we have a target on our back, so everyone wants to come out and play their best against you.  Anyone you come up against forces you to play your best.
In the NBL who is your favourite Ex-NBL player?
Tony Ronaldson, the way he played is similar as to how I try to mould my game a big 4 can knock down a 3.  He was a smart playing and knew how to use his body even though he wasn't all that versatile.
Apart from basketball what is your favourite Olympic sport?
Womens beach volleyball
Have you ever had an injury that you thought would end your basketball career?
No, but in college I dislocated my shoulder and it never went back in so I had to get surgery on that.
Which NBL/SBL team do you not like playing against and why?
SBL – Kalamunda it's just such a different game that anyone else plays.
NBL – Every team is so good and fun to compete against them all.
When you do SBL coaching clinics what part of it give you the most satisfaction?
Seeing the kids grow throughout the clinics, the clinics we've just done has been 3 straight days with the same kids and the difference from day 1 to day 3, their confidence and their skill set and knowing that you've been a part of that.
AUSTIN BRUTON
How are you enjoying the SBL?
I'm still really enjoying going out and competing at a high level each week.
What is your favourite SBL moment?
I have many favourite memories but I'd have to put playing in the QF triple overtime game v lakeside a few years ago as one of them.
Is there a player in the SBL that you find difficult to play against?  Why?
A former player by the name of Taylor Land, we always went at it and he knew how to really annoy people but he's a great guy off the court.
How do you mentally prepare for a game?
I try not to think to much about the game until I am lacing up my shoes. I always try to have a pre-game nap if I get the chance.
How has the Stirling Senators SBL club helped you?
Stirling has been my home for the past 6 years and has helped develop me as a player toward the end of my career and person.
Did you ever feel any pressure to tryout/play in the NBL?
Not really, I never tried to put too much pressure on myself having a family that has been very successful in the NBL.  The biggest opportunity for me to play NBL was probably with my dad when I was in Canberra but I elected to go back to the States and give school another go. Something I kind of regret but that's life. I also had a workout under the watch of Andrew Vlahov against a new Wildcats signee which went well but that was all it was. Scott Fisher invited me to train with the Wildcats too one season but I was working and had no money at the time and had just returned from college. 
Who is your favourite NBA player?  Why?
Michael Jordan because I've had a chance to meet him and he's the greatest. Favourite current player would have to be Chris Paul, just love the way he plays the game.
What is your favourite thing to do away from basketball?
Relax, spend time with my daughter, girlfriend and kids and catch up with friends. I also enjoy playing Xbox and jet skiing in the summer.
Apart from basketball what is your favourite Olympic sport?
I would have to say Track and Field.
What is your favourite part of being a dad?
Being a dad is great and it is rewarding seeing your kid grow.
What is your favourite brand of basketball shoes to wear?
Kyrie 3's.
What is your favourite sports drink?
Orange Powerade.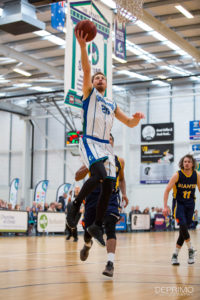 CORBAN WROE
Obviously winning 2 championships with the Perth Wildcats would be a major highlight, what are some others?
In juniors I got to play for Australia and I remember Cody saying to me that "anytime we put on the green and gold was a proud moment", so playing for Australia a few times. 
You got to play a lot of court time in the NBL this past season due to Damian Martin being injured, so you came up against a lot of great point guards in the league, which one did you find the most intimidating?
Jerome Randle he is the fastest and the hardest to guard, but everyone struggles to guard him so I just did the best I could.
What is your least favourite moment whilst being in the NBL?
As a rookie in the Wildcats they have a tradition that you have to wear a suit on their first road trip, it was my first road trip and it was pre-season so I had 4 flights in a full suit up in Townsville and the temperature wasn't nice, it was stinking hot.
Did you always want to be a professional basketball player?
Yes but when I was younger I wanted to be a firefighter or play Rugby League.
How has the SBL helped you?
By playing more minutes it allows you to get in game shape and work on things that you might not be able to do otherwise. 
What is your pre-game routine?  Do you have any superstition?
No superstitions.  I used to as a kid but I moved away from that because it's silly and is one less thing to focus on.
Who is your biggest influence with regards to basketball – mentor?
I have had so many coaches throughout my career but as far as mentors I would say my parents because they are the most honest.  You take bits and pieces from all of your coaches over the years though.
Obviously the NBL and the SBL are two different levels of professional basketball, do you prepare any different?
No I try not to do anything different.  With the NBL you train more and it's more intense than the SBL.  They are both professional leagues so you have to treat them that way.
Which players in the SBL actually push you to work harder?
There are a lot of great players and each team has 1 or 2 guys who are really good.  You also see a lot of younger players like Oliver Cross who have the ability to be really good in the future.
Who is your favourite x-NBA player?
Kobe Bryant.  The first game I had ever seen was a Lakers game so I was obsessed with him.  I wanted to see him live but that never happened.  I just loved his mentality and approach to basketball.
Which team in the SBL do you not like playing against and why?
Kalamunda, it's intense and very hectic. You can be up by 20 points and then within 5 minutes it's back to a 5 point game.
How have you found your time at the Stirling Senators over the past season & the current one?
I love it here.  When you're around a group of guys and an organisation like this, it makes you enjoy the game more.
Has your first season & second season been any different to you?
I've tried to be a lot more aggressive offensively this year.  Not forcing it but taking what the defence gives me.
How have you found playing under Mike Ellis compared to other coaches you have had in your career?
It's much easier to play for someone who was such an elite player.  There's definitely a level of respect for what he did as a player.
How has the Stirling Senators community welcomed you into their club?
Like I've been here my whole life.  I honestly can't say enough about the people here.  It's a really enjoyable place to call home.
You played basketball in the US at Hartford what was some highlights for you?
We played at Louisville in front of 22,000.  Notre Dame, Penn State, FGCU.  You look back and reflect and despite losing to some big schools, it was an awesome experience. 
You are originally from Townsville in Queensland, what made you come to Perth?
It is thanks to Shawn Dennis and Trevor Gleeson taking a chance on me 2 years ago.  I had some other places I could have gone but I'm glad I came here. 
How was the AIS experience for you?
They were some of the best years of my life so far.  You learn a lot about yourself moving away from home at a young age.  I also met some of my best mates there.
 Tell us some of the tournaments you have played in?
I've played in a number of tournaments when I was a junior.  Albert Schwietzer, Oceania Youth Tournament, Youth Olympics, a bunch of series in China and an AIS tour to Italy.  I've been pretty lucky enough to travel the world thanks to basketball so I'll always be grateful for the people who gave me these opportunities.  Whether I finish my basketball journey tomorrow or in 10 years' time from now, I'm happy with everything I've been able to do and accomplish in my career.
Apart from basketball, what else do you enjoy doing?
About a year ago I started surfing. I first had to get over my fear of sharks as there are a lot of them in WA, but once I got over that.  I went out almost every few days.  I am a fitness junkie too so I love working out in the gym.
Article by Natala Miller
Photo by Deprimo Photography