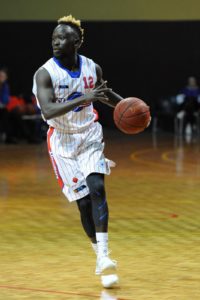 South West Slammers bounced back to winning ways, making it two from two games this weekend with a 92-79 victory over the Goldfields Giants at the Eaton Recreation Centre on Saturday night.
The home team welcomed back import Tre Nichols, after missing Friday night's victory away against the Perry Lakes Hawks but were still without regular starter Chris Douglas due to injury and Ty Harrelson.
The first half was an armwrestle from start to finish with both teams exchanging multiple lead changes in a closely fought contest for early ascendancy.
The two sides played a significant portion of the first half in zone, each challenging the other to hit from the perimeter. However despite several lead changes, neither team was able to break away from the other and at the half, it was a 45-44 Giants advantage.
While both teams shared a zone defensive mentality, the similarities ended there with the home team relying on three point shots to combat the Giants zone while the visitors were more inclined to go inside with import Jacob Holmen working to great effect. Holmen finished the first half with 16 points as he scored with little difficulty against the home team.
The Slammers were paced in the opening twenty minutes by their guard trio of Nichols, Lay and Puot adding 11, 10 and 11 points respectively.
The third term continued the first half theme with both sides keeping close tabs on one another and heading into the fourth quarter, it was deadlocked at 67 a-piece.
Whatever excitement or action the game  lacked prior arrived in droves in the fourth quarter for the home fans. Slammers guard Teny Puot (23 points for the game) single-handedly blew the game apart in the opening minutes of the last term of play. Puot hit four three pointers to help power the Slammers away to a double digit lead, as the home team outscored the visitors 25-12 to register a 92-79 win and scoop both games over the weekend.
Prior to the Puot three-spree, the visitors had threatened to come away with an unlikely upset away from home. However, Puot's outburst along with a determined second-half  defensive effort on Holmen, which saw Giants powerhouse add only another 5 points to his half-time tally, proved to be the ingredient for success.
The win sees the Slammers secure two important victories after last week's loss to the Stirling Senators and comes off the back of key players Douglas and Harrelson missing both games. Coach Charles Nix will be pleased with the output of his younger players, in particular Travis Vogel, who embraced the opportunity afforded his way without Douglas and Harrelson in the line-up.
The Giants will be ruing a missed opportunity of registering an upset victory in the first of their two-game road trip. They now look to bounce back against the Mandurah Magic on Sunday.
Article by Vlad Alava