THE Round One Women's SBL Player of the Week has been awarded to Sami Whitcomb of the Willetton Tigers.
3-time WSBL MVP and WNBA player Sami Whitcomb was a last-minute signing for the Tigers and proved to be the difference in an 86-67 victory on opening night for Joondalup at HBF Arena.
In a signature performance, Whitcomb dominated the game with 34 points, 14 rebounds, 5 assists and 5 steals – leading or tying all players across those categories.
With the Tigers trailing by 10 points at the half, Whitcomb took the game on her shoulders sparking an 18-2 run for Willetton to start the third and finishing with 15 points in the period. That set the Tigers up for a 52-23 second half, resulting in a crucial win as Willetton await the arrival of import Leah Cotton.
Whitcomb and the Tigers will be away at Warwick Stadium as they match-up against the Senators this Sunday 25th March.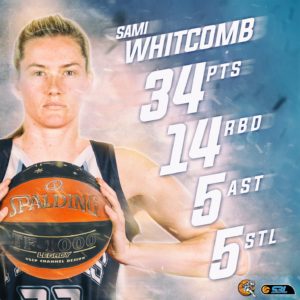 Image by Sports Imagery Australia