MEDIA RELEASE
Red Frogs Jump Into SBL All-Star Games
SBL All-Star's from North and South of the River will go head to head on Monday 4 June, when Western Australia's State Basketball League (SBL) players take to the court for the annual Swish SBL All-Star Games as part of Basketball WA's 'Festival of Basketball'.
The games at the Bendat Basketball Centre in Floreat will showcase the State's top players in a North vs South rivalry match-up. The venue will transform into a Festival of Basketball with talented players, basketball clinics and entertainment for the whole family starting at 10am.
The Swish Sponsorship Committee, founded by Jack and Susie Cotton, SBL Commissioner Andy Stewart and SBL General Manager Adam Bowler four years ago, will again attempt to impact social change and raise funds for charitable organisations across Western Australia. To date, the event has raised in excess of $240,000.
Swish, BWA and the SBL are pleased to announce a new partnership with Red Frogs Australia for the 2018 event. The partnership will see Basketball WA host the annual All Star Game and provide a vehicle to raise funds that support Red Frogs Australia who deliver a range of hands-on services to youth in Western Australia.
General Manager of the SBL, Adam Bowler says the game is set to be the most competitive yet.
"I am a strong believer that sport, and specifically basketball, can be a catalyst to engage, empower and enact change within the community, and in the lives of Western Australians. As a part of our ongoing social responsibility, the State Basketball League is once again proud and honoured to be hosting the 2018 SBL All-Star games, which not only raises vital funds for charity but more importantly much needed awareness of the social issues impacting many lives".
"Red Frogs' vision to "reduce suffering and safeguard a generation of young people and empower them to make changes and positive life choices and become a voice of change within their culture" strongly aligns and resonates with our League, making our partnership all the more valuable".
In 2018, the BWA Festival of Basketball will also play host to the WABL 3×3 Championships with face painting, inflatables, stalls and various basketball activities throughout the day.
"Basketball WA is excited about the new partnership with Red Frogs as they have many synergies with our organisations strategic vision," said Basketball WA CEO Rob Clement.
"We believe this event will provide the basketball community for an opportunity to engage and give back to the wider community and a cause bigger than ones self."
Doors open at 10 am with the women's tip off at 12pm and the men's game at 2pm. Entry to the event is by donation. All funds raised will support the continued work by Red Frogs in Western Australia.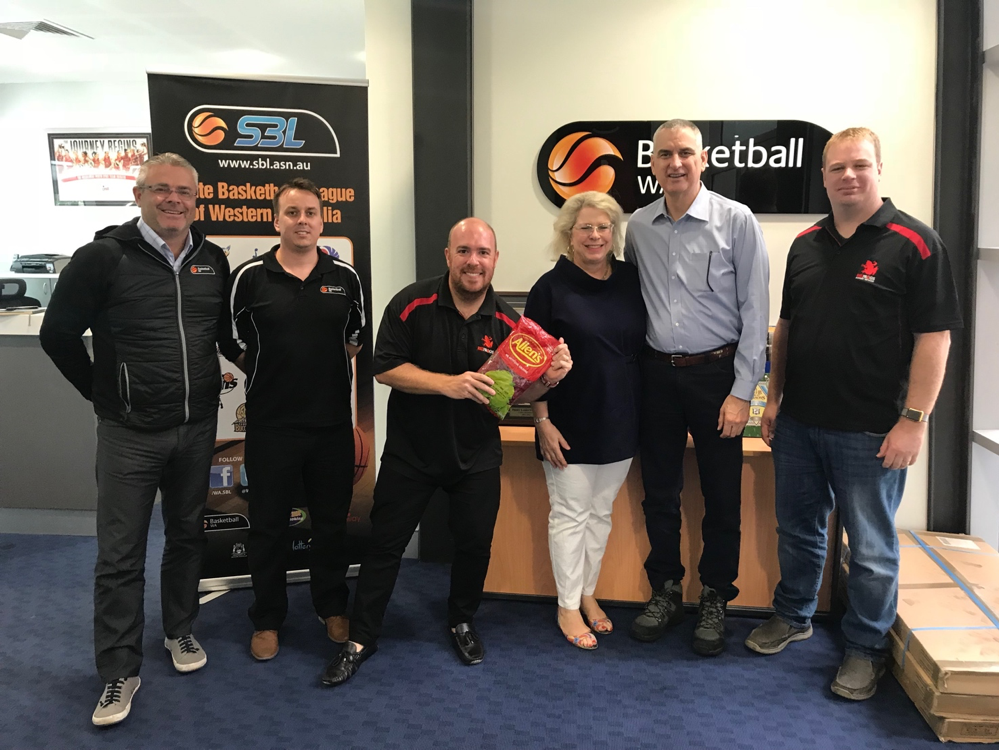 Swish SBL Sponsorship Committee: Rob Clement, Adam Bowler, Hayden Glass, Susie Cotton, Jack Cotton, Cameron Barnes, Andy Stewart and Georgia Clarke.
CLICK HERE FOR THE FULL MEDIA RELEASE
Media Contacts:
Adam Bowler
Basketball WA
Competitions Manager and SBL General Manager
08 6272 0746
adam.bowler@basketballwa.asn.au
 
Georgia Clarke
Basketball WA
Participation and Events Officer
08 6272 0748
georgia.clarke@basketballwa.asn.au