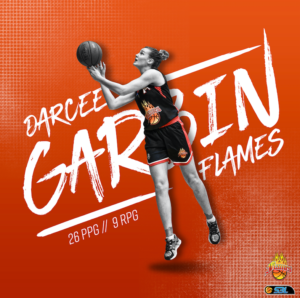 THE Round Six Women's SBL Player of the Week has been awarded to Darcee Garbin of the Latitude 32 Rockingham Flames.
 The Rockingham Flames have sent a clear message to the rest of the league in both Men's and Women's leagues, and the WSBL squad have rallied behind Garbin's dominant display.
In just 24 minutes, Garbin managed 21 points, 4 rebounds, an assist and a steal against the Eagles Friday night. That included going 60% from the field and 42% from beyond the arc. The Flames won that contest 92-60, but Garbin's best was still to come.
The following night with the Flames away at South West, Garbin poured in 31 points, 14 rebounds, 2 assists and a block. Furthermore, Garbin went 73% from the field and 100% from the three-point line – a perfect 4 of 4. The Flames emerged victors 78-51.
The Flames are now 5thoverall at 4-2, with more major signings to be announced. The Flames will be tested this weekend as they host the Joondalup Wolves (3-3) Saturday night, which presents a chance to break into the top 3.
Graphic by Sports Imagery Australia